Started by
Tita
, it's my turn now to note these things down.
1. Similar to
Venny
, I'm the kind of person who won't say anything until am spoken to. In big social functions, I mostly nod and smile, while trying to look occupied by other things such as drawing or reading - as far as courtesy permits.
2. I only had one traffic accident in my life. I was about 10, cycling home from school. At an intersection, when I was crossing, a Toyota Kijang 'pick up' hit me. Not hard, but enough to make me fall off my bike. I didn't feel pain and didn't say anything. The Kijang people (two men) asked me questions and maybe offered to take me home. The scene started to attract onlookers, which only made me more confused. I suddenly pulled up my bike (which wasn't harmed) and sped home, leaving the ring of crowds.
I didn't say anything to anyone about the accident when I got home, but my mother soon noticed a big wound on my left knee. She had to fish out the story from me with difficulties, for I wanted to do was sleeping and forgetting the whole thing (didn't succeed here, did I?).
3. I was a grumpy teenager - well, maybe up to my early 20s, when people thought I was fierce. For instance, I used to be made into the head of girls' 'security section' for an 'orientation period' (for first year students), whose job is mainly to 'discipline' the newcomers.
4. The clubs I joined during my senior high school and university years? I wasn't good at any of them. In the basketball club, I have always been a spare part - not the 6th player but perhaps the 13th or 14th. In the Balinese culture club, I know I can't dance as graceful or as supple as my peers. But nevermind; I've always enjoyed the company and the teamwork.
5. I used to be afraid of my brother. Maybe I still am, on a different level. I still find it difficult to be opiniated, or to speak up my mind freely, partly due to this fact. I think.
It's about one hour approaching 2007 now - shall I continue with a resolution thing as asked by
Peter
? :)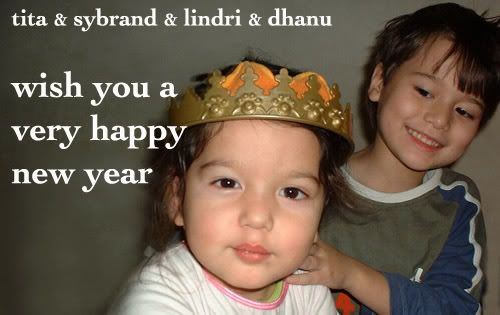 Counting my blessings in 2006:
I got to go to concerts: Sparks and Strips in Stereo. This kind of things has become a luxury for me since our first child was born, because it's not easy to find a day/night off with these kids around. Then, I got to watch Mirrormask at the opening of Amsterdam Fantastic Film Festival (this one is not played in mainstream movie theatres) in one of those 'free' nights of mine.
Even more of a novelty: I got to travel by myself to Barcelona! I was invited to give a lecture at the Polytechnic University of Catalunya and stayed there for 2 nights. The lecture itself went for about two hours; the rest was for fun. Once in a while I could really use this kind of selfishness.
My family visited us! My father came and spent a couple of days during his trip to Germany and Qatar. My mother and my cousin Chica and her daughter Luna came in summer for a couple of weeks. Those were some memorable moments!
It's the final year of my doctoral study. I finally finished my dissertation. Aside from that, I managed to have some of my drawings published as a part of three different books.

Sybrand resigned from his two jobs due to our moving plan to Indonesia. His former colleagues held a farewell party especially for us. That was a touching moment, realizing that all those people came only to greet us and wish us a good life in the future.
Dhanu and Lindri are growing healthy and happy.

Resolution for 2007:
Settle down in Bandung - not only the staying permit of Sybrand and the kids, but also my employment status and such. Start working as much as possible; especially getting used to the university life in Bandung again (it

is

different from Delft).
Get Dhanu and Lindri their dual citizenship rights. Get Sybrand his proper staying permit (temporary stay visa), which is valid for one year.

Get Dhanu (and perhaps Lindri) into a decent and affordable (pre)school. I'm honestly still clueless about this, but hopefully can get to know more once we visit the possible options in Bandung.
Start building our house on 'the land', using the sustainable housing concept and guideline of my dissertation. Start developing a village- or household-scale waste management system to produce compost or fertilizer. Grow herb or fruit orchard on our land.

Keep drawing. Get a good Internet connection and keep blogging.
Keep cycling from home to work, like I used to when I was still a student.
Back to the habit of swimming everyday. If it's not possible, then at least 2-3 times a week, at Sabuga swimming pool.

This will surely be a busy year.