Here's some cheering up for myself towards the end of the year, when my nerves should be stressed by all the business of dissertation completion, packing and moving overseas and emigration documents: my drawings got published in three books!
40075km Comics
I got directed by
Joost Pollmann's Blog
to the
40075km-comics
site, where everyone was invited to upload his/her graphic works (comics, illustration and all visuals) on the site - as long as it has the theme "travelling". Well, my (earlier) diary is mostly about travels, so I could upload some of my travelling episodes there. This site is managed by
Employe Du Moi
(in English:
Do It Yourself
), a group of young comics/visual artists in Belgium.
After one year of online publication (and a couple of exhibitions in Brussels), the 40075km Comics organizer decided to pulbish an anthology of selected works. Two of my entries were chosen: my Finland trip and my football comics (a nomination in Goethe Institute Jkt comics competition).
An excerpt from an email I received from the organizer of how to get the book:
40075km comics
, 597 pages in color for 29,50 euros. It will be available in Belgium in December and in January in France and Switzerland.
1. Come to l'employé du Moi, 51 rue de l'Insstruction, 1070 Brussels, please ring before you come +32 3453076
2. Wait for the public event that we will organize in Brussels in December (we don't know where and when yet)
3. Come and see us in Angoulême (France) in January 2007, please place your order by sending an email so we know how many books we'll have to bring with us.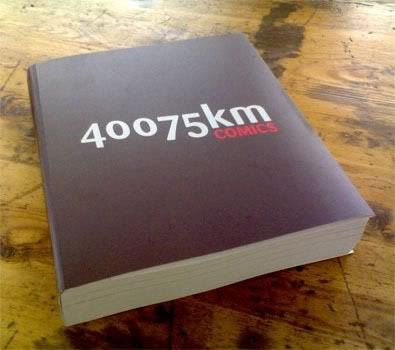 The 40075km Comics anthology, taken from the website of
l' employé do moi
24 Hour Comics Day at Lambiek
As some of you've already known, I participated in the 24 Hour Comics Day event last October, joining the others at
Lambiek
. Lambiek is going to publish all participants' works - except the ones made by
Cutie
guys (the works of the Cutie group will be published by
Bries
- a small publisher in Antwerp, Belgium).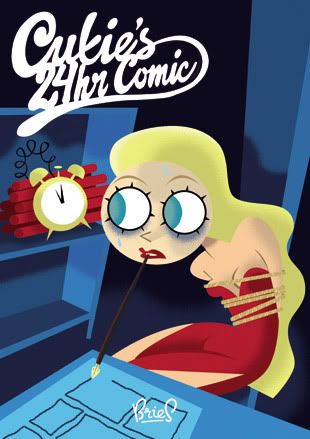 Cover of 24HCD of Cutie that is published by Bries
24 Hour Comics Day Highlights 2006
This morning I received the news that my 24HCD story got selected for
the Highlights 2006
! What a surprise! This year they only chose 10 works (instead of the usual 24) out of hundreds of entries. I'm so flattered by the appreciation :D
"The book is listed in the new issue of
Previews
hitting comics shops this Wednesday (page 208), and will ship in March." - an email excerpt from
Nat Gertler
, founder/organizer of 24 Hour Comics Day and editor of 24 Hour Comics Day Highlights 2006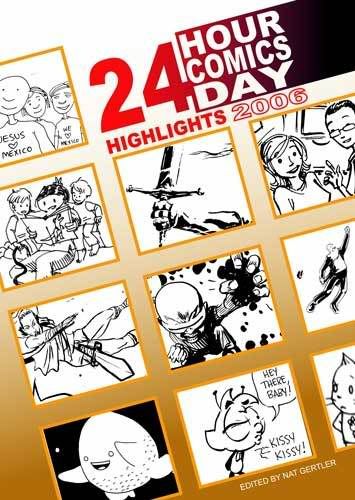 Cover of the 24HCD Highlights 2006, taken from
24HCD Blog
These news are surely cool birthday presents for me! And thanks to you all family and friends who have been encouraging me!