What do you do when you visit Amsterdam? For first-time-visitors, a canal tour with a small boat, a cycling tour around the city and visiting some museums might be sufficient. Oh, and perhaps a sight-seeing to the Red Light District, for novelty's sake. Some young, rebel ones might also visit the coffee shops and smart shops. But if you're done with all the touristy stuff in Amsterdam, and if you love books, I can show you my favourite hunting spots.

Book Exchange
Walk straight to the direction of Dam Square from the Central Station, turn left where the white tall monument stands. Follow this Damrak street, cross a bridge that goes across the first canal, then turn left at the first intersection afterwards. Keep an eye on the left hand side of the street, you'll see stone steps upwards, with a front window saying "Book Exchange". Go up, go in, and you'll suddenly find yourself surrounded with endless rows of books, from wall to wall and from top to bottom.

If you look for novels of any kind (fictions, crime, etc.) then go straight forward and up the stairs. The books are alphabetically arranged according to authors' names. But if you stop at the bottom part of the stairs, you'll find humor, children's books and comics at your left hand side. Follow the stairs downwards and you'll get cookbooks, nature and social sciences. More popular science if you go to the basement, along with biographies and fantasies. Feminist and gay studies are also available. Dictionary, design, art and architecture books, books about movies, music and theatres are nearby the entrance. And there's more, wherever you look.

These books are all second hand, you can buy and you can sell, at a decent price (not too cheap, not too expensive). At least we could complete our Steinbeck collection at around 6 EUR a piece (paperback). No wonder this place has been an obligatory stop-over for English-speaking tourists, citizens, visitors, students, etc. who love browsing books.




Book Exchange
Klovenierburgwal 58
1012CX Amsterdam
T: +31 (0)20 626 6266
Open:
Mon-Fri 10:00 - 18:00
Sat 10:00 - 17:30
Sun 11:30 - 16:00
No credit cards


Henk
This book hunting of course includes comics shops as well. If you go out the door of Book Exchange, go to the left hand side and walk straight down the street, to the direction of Nieuwmarkt. Just when you come to the intersection of Zeedijk (that's after you just pass De Waag Café), look to your left. There's a door and a display window with Henk written on it in 'Heineken letters'. Just go in if you're a comic books aficionado - and, moreover, if you're collecting (superheroes) figurines. Just be ready to be broken-hearted if you can't spend the right amount of dough for your favourite character.

I recommend this shop for those who like American mainstream comics and English-translated Manga (of any genre). There are some quality 'alternative' or small-publisher products, too, from the US, UK and EU. The shop is so snug and full you can even drool without anybody noticing (just wipe it quick - but not on that Batman's cape, you nuts).

Henk - The Comic & Manga Store
Zeedijk 136
1012 BC Amsterdam
T: +31 (0)20 421 3688
E: shop@comics.nl
W: http://www.comics.nl/
Open:
Mon-Sat 11:00 - 18:00
Thu 11:00 - 21:00
Sun 12:00 - 18:00


The New English Bookshop
If we're done with our business in this frivolous district (books, Chinese food eating and shopping, or whatever you do here), shall we move on to our next target? From Henk, or De Waag, walk along the street towards the Book Exchange, and go straight. If you go right at the first intersection after Book Exchange, you'll find yourself walking to Dam Square (where Madame Tussaud's Museum, The Royal Palace and The Cathedral are).

But if you ignore the intersection and keep going forward, picking always the right hand side of the street, you'll eventually find yourself walking across Hotel de l'Europe (quite posh, this one). Keep walking until the bridge over a canal, cross it, then cross the big street to the direction of Muntplein/Munttoren. Before reaching the Munt Tower (don't cross that other street), look across your right shoulder. There it is: The New English Bookshop.

This shop is quite a good choice if you're looking for presents; especially for children's books and cook books. They sell travel books as well, along with stationaries and cutie-putie gift-books. I've scored a lot of sticker- and activity-books here, as well as CD-books for kids. Even comics! They have novels and fiction, too, and some art/ design/ architecture/ gardening/ yoga books. Their products are new, but are sold at very steep prices. I don't know how they do that (I was told that what they sell are what are left at warehouses).

There's another one of this shop, down Leidsestraat.

The New English Bookshop
Lauriergracht 71
Amsterdam
T: +31 (0)20 626 4230
Open on Sundays, too.


De Slegte
Alright, The New English Bookshop is actually down the Kalverstraat. Kalverstraat is a street full of shops that starts from in front of the Central Station - walk straight this street and you'll arrive at Muntplein. But if you're at The New English Bookshop, then walk up to the direction of the Central Station (get it?).

You'll pass by some interesting spots but we'll discuss that later. Anyway, there's this big bookshop called De Slegte at the left hand side (if you walk towards Central Station). It's a chain bookshop that you can find in big cities in The Netherlands. Books here are mostly in Dutch although quite plenty are in English - and also at a bargain price, new and second hand (but not the antiques). There are three stories of goodness-on-prints-and-papers, so be prepared to spend half-a-day in here (or perhaps a full day, for this shop was renovated into a bigger, cozier place).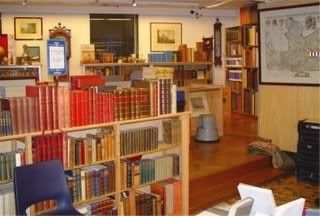 De Slegte
Kalverstraat 48-52
1012 PE Amsterdam
T: +31 (0)20 622 5933
F: +31 (0)20 624 1620
E: info@deslegte.nl
W: http://www.deslegte.nl
Open:
Mon 11:00 - 18:00
Tue-Fri 9:30 - 18:00 (Thu to 21:00)
Sat 9:30 - 18:00


Waterstone's
It's fine if you want to skip De Slegte, especially if you don't read too much Dutch. So, from The New English Bookshop nearby Munttoren, walk along Kalverstraat to the direction of Central Station. You will soon come across an intersection that goes to Spui if you turn left. Hold on there, I know there are lots of cafés at Spui that can lure you to immediately take a drink or two in one. You can't miss this one: Waterstone's in all its Briton properness. Tidy arrangements, darkish interior elements, expensive.
I'm just glad that they have this regular "2 for 3" offer: buy 3 books and you get one (the cheapest) free. The selections change periodically, mixed between old and new books. It's almost always the case that, every time I shop there, I buy no other books but the ones that are included in this offer. Here's giving you a picture: each paperback costs around 18 EUR - so if you buy 3 paperbacks of the same price, than each will cost 12 EUR. Still expensive, but what the hey. Oh, and I like their black plastic bag with a variety of quotations (printed in gold) on it :)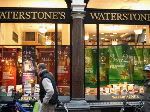 Waterstone's
Kalverstraat 152
1012XE Amsterdam
T: +31 (0)20 638 3821
E: enquiries@amsterdam.waterstones.com
W:
http://www.waterstones.com
Open:
Sun 11:00 - 18:00
Mon 10:00 - 18:00
Tue-Wed 09:30 - 18:00
Thu 09:30 - 21:00
Fri 09:30 - 18:00
Sat 10:00 - 18:30
American Book Center
Just in case nothing of the "3 for 2" selections at Waterston's suits you, just walk to the direction of Spui. I think you can see it already at the corner of the square: the new venue of American Book Center (they moved from Kalverstraat in the end of 2006). I have been into their old shop lots of time, but only been once into this new one.
There's a discount card that is valid for one year and gives you 10% off every time you shop, costing - correct me if I'm wrong - about 15 EUR. I got my money back quite quickly, for they also have a good and complete selection of new comics and paperbacks. I promised myself I would explore the new shop at Spui from end to end, once I got the chance to go to Amsterdam again.
American Book Center
Spui 12
1012 XA Amsterdam
T:+31 (0)20 625 55 37
F:+31 (0)20 624 80 42
E: info@abc.nl
W: http://www.abc.nl
GPS coordinates: lat - long: 52.369 , 4.889
Open:
Monday, Tuesday, Wednesday: 10h00 - 20h00
Thursday 10h00 - 21h00
Friday, Saturday 10h00 - 20h00
Sunday 11h00 - 18h30
Our ABC Move Blog gives you information on the move from the Kalverstraat to the Spui.

Scheltema
Scouring books in this Spui area never ends. Across the American Book Center, there's more interesting bookshops like Atheneum, that has an extensive selection of magazines (Spui 14-16, 1012 XA Amsterdam, T: +31 (0)20 622 6248). But let's just walk to the direction of Bloemenmarkt (Flower Market), and turn right at Koningsplein. Walk a bit down and stop before the first bridge. You'll find yourself in front of Scheltema, a chain bookshop in The Netherlands (but with different names in other cities). This one is huge and it has a tiny cafe that looks more like a small living room with a counter, coffee tables and seats. However, I don't think it's too cozy to linger there, sitting and drinking.
Scheltema
Koningsplein 20
1017 BB Amsterdam
T: +31 (0)20 523 1411
F: +31 (0)20 622 7684
W: http://www.scheltema.nl


Lambiek
Out of Scheltema, turn right and walk down Leidsestraat, a street full of shops at its left and right (your shoe-holic friends might get frantic here). When you reach Prinsengracht canal, walk on a bit down. On the right hand side you'll see another New English Bookstore (same as the one at Kalverstraat), just before an intersection of Kerkstraat. Turn left at the intersection and look for number 132, situated on your right hand side.
If you think I'm saving the best for last, you're right. I've written a lengthy article concerning this shop/gallery/antiquariaat here: http://komik.multiply.com/journal/item/6 (in Indonesian). In short, I highly recommend this shop for those looking for comics other than mainstreams, Dutch and European comics, original prints, long-forgotten-hidden publications of graphic works and whatnot (surprise yourself). They start selling gimmicks, too, such as figurines (mainly characters from Belgian or France artists), T-shirt and buttons (originally Dutch, people!).
The counter at the front provides a shelf mainly for Xeroxed comics, another shelf contains DVDs and magazines. At the lower part and in the cupboard across are rows of second hand comics and magazines. People here know what they're talking about (concerning comics), so feel free to inquire what you want, what you need.
Lambiek
Kerkstraat 132
1017 GP Amsterdam
T: +31 (0)20 626 7543
F: +31 (0)20 620 6372
E: lambiek@lambiek.net
W: http://www.lambiek.net
Open:
Mon-Fri 11:00-18:00
Sat 11:00-17:00
Sun 13:00-17:00
There are of course more bookshops and book-marketplaces worth visiting, such as Architect & Natura for people who look for books relevant to architecture, landscape architecture and gardening, some antique bookshops and marketplaces that abandon their 2nd-hand books that are not sold (so you can just pick them up for free!) - but this is my list so far. Happy hunting!