Among the first things I worried about, during the process of moving back to Indonesia, was finding a school for our kids. A decent school in Bandung that they enjoy going to, that doesn't stress them out, that provides a pleasant learning environment. What I've heard so far, during my search, hasn't been satisfactory. Contradicting opinions always came up whenever we were considering upon one school after another.
Until the first days after our arrival in Bandung, I still had no clue where to start. Public schools are automatically out of count, because Dhanu and Lindri, being foreigners, are not entitled to enrol into one. International schools are also out of the question, because we have no means to pay the US$-rated fee (especially compared to Dhanu's former school in Amsterdam, where he went to for
free
). Besides, they would have English as their daily language, which would confuse our kids even more. So the choice narrowed down to private schools.
I was thinking of visiting some recommended private schools one by one, with the hope that they would still let our kids start school as soon as possible (the new semester has already started for a couple of weeks when we arrived).
But these schools.. well, my experiences of going to one for 11+ years (from Kindergarten to Junior High) are similar to what the students of such schools face nowadays. I don't mind the emphasize on discipline. What I do mind is when our kids are stressed out by too much homeworks, exams, intra- and extra-curricular activities. I tend to disagree when a child's achievement is valued by their (exam) grades and ranks in class. Moreover, there are still expenses for their uniforms, books and other necessities.
To tell you the truth, I was quite worried about kids nowadays who already measure 'friends' by their belongings. I heard of a 9-10 year old kid asking a new classmate, "What does your father do? How much does he make? What kind of car does he have?" Isn't that frightening?
I secretly longed for an elementary school similar to
Totto Chan
's
Tomoe
, where kids can be what they are: children who enjoy playing, exploring things and surroundings, and discovering their own interests - and are allowed to conduct such behaviours in school hours. And (with a faint hope) whose enrolling and monthly fees do not cost too much.
Lord Above be Praised, it only took within a week of our lives in Bandung until I got convincing recommendations from friends whose children go to this one school:
Cendekia
. Most of these friends are fellow alumnis (and lecturers) of the Faculty of Arts and Design ITB; the rest are their spouses and people I know from other sources. The way they promoted their kids' school is, "There's no homework!" or "They don't have to wear uniform!" or "We don't have to buy school books!"
We rightaway made a plan to visit the school, along with Dhanu and Lindri. I met some of these friends that day, who waited for us after they took their kids in. We were introduced to Pak Er, the headmaster, who then showed us around the school.
It is a small school, looking very homey and welcoming. They have daycare, playgroup and kindergarten classes as well, besides the elementary school classes. The ratio between teacher and students is 1:10. Dhanu's class-to-be, Grade 1, consists only of 8 students! This fact was what impressed me the most, knowing that Dhanu would need a lot of attention in his adjusting period.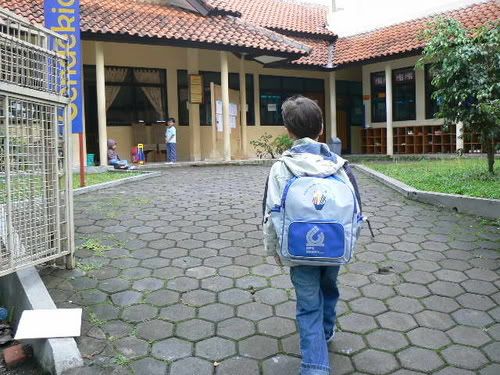 Dhanu entering the school yard
Pak Er continued to explain that the students go through the day not based on subjects (Math, Science, etc.) but by projects. And - as my friends said - if there's an exam, we (parents) are not notified and the kids would do their exam without being aware that they are being tested. I was told that graduates from Cendekia elementary school also did a standard test (from the government) and they could manage. The school focuses on developing children's social skills, or leadership skills (hence the name Cendekia
Leadership
School) - training them to be independent and outspoken, with manners. It is an Islamic school that emphasizes on the understanding of conducting properly in daily life based on their belief.
The school seemed friendly enough, so we agreed to have some days of trials for our kids. Surprise, surprise, our kids were allowed to start in the next day already! And they seemed eager to go, as well, after one week of 'doing nothing' at home (or being dragged around by me).
So, the next day, I took them there and left them for a full school hour (08:30-16:00). That day, on the move, I kept checking my mobile to see if the school tried to contact me due to our kid(s) having trouble. But nothing happenned; they were quite content.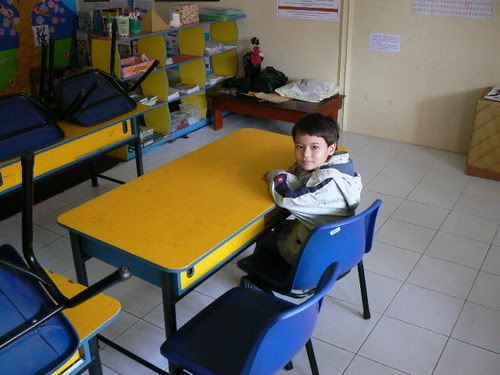 Dhanu shows his desk in his classroom
It's been almost two months now since Dhanu and Lindri became Cendekia students. So far, they never refuse to go to school and there's hardly any task that they have to do at home. They spend the rest of the day playing, until dinner time, and are happy to go to school again the next day. We had pleasant and informative conversations with their teachers and we know almost everyone in that school. Not to mention that we often get rides to school (
thanks, Ira!
:D) and from school (
thanks to Ira, Mbak Dona and Bu Endang
:D). Most importantly for us, Dhanu and Lindri are adjusting themselves happily in his new school. I think this is mainly due to the school's concept to recognize personality and characters of each child and to nurture his/her unique potentials accordingly. This school is definitely not a 'pupils factory' (borrowing
Ivan Illich
's term in
Deschooling Society
). In short, we are satisfied with how things are going so far. We might have found a 'Tomoe', and we need more of such!
Dhanu and Lindri standing next to a staircase that goes to Dhanu's classroom